Live, work, play, write, sing, and publish "The Blotter" Magazine (www.blotterrag.com) in Durham, N.C.  Grew up in Suburbia (Washington, D.C., then Omaha, Nebraska.)  Kent State University in Ohio, 1977 – 82; major in architecture with minors in Partying and the Society for Creative Anachronisms.  Former draftsman, movie-theatre projectionist, census clerk.  Former DJ at WXDU, the Duke University radio station:  "Laugh Tracks" (comedy) 1986 – 2009, "New Frontier" (New Age & experimental music) 1991 – 2009.
Fan of James Thurber, Monty Python, Warner Bros. and Popeye cartoons; of train travel, old buildings, and live local music.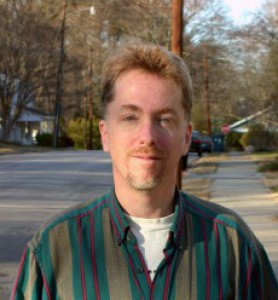 Me.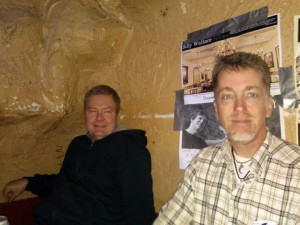 With my husband Robin at The Cave (www.caverntavern) in Chapel Hill.

What I like to do when not writing.
(Left:  singing with "Radar's Clowns of Sedation."  Right:  Dave Perry, me, and Rob Breitweiser.)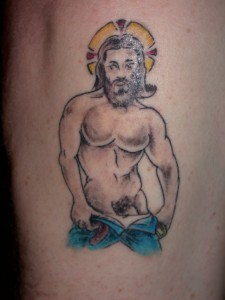 My ink.